See our pricing, portfolio & get your FREE website mockup!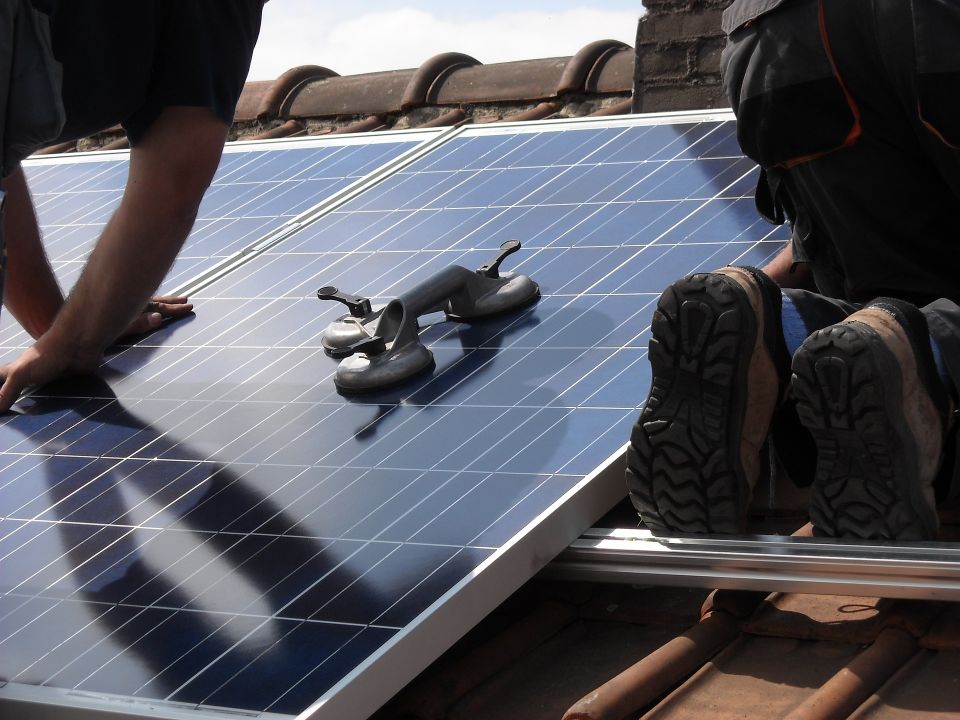 Tips to Improve Your Solar Energy Company Website Design for More Leads and Sales
When you have a solar energy company, you will want to have a good website design that will get you a lot of leads and convert them to sales. Luckily, some simple tips can help you in this task.

Why Solar Companies Need a Website

If you're a solar installation company, you know how important it is to have an online presence. Not only is it a good way to attract new customers, but it can also help you re-engage with existing ones. With a well-designed website, you can keep your business fresh and appeal to customers. But how can you create a great website?

Here are six elements to ensure that your website does the trick.

The first thing a potential customer will notice when visiting your site is the design. It should be professional and easy to navigate. It should also leave room for some text, photos, and videos. These features can break up large blocks of text, making it more accessible for readers.

In addition to having an attractive website, you need to create a digital marketing strategy. Using social media and email services is an effective way to connect with potential customers. You can also publish blog posts to share helpful information on solar energy.

To make your website's content worthwhile, include a variety of high-quality photos and videos. This will showcase your latest projects and will also prove that your company is a legitimate one.

Also, create a contact form. You can use this to allow visitors to submit their questions or to request a quote. A contact form is simple and can be a great way for your customers to get in touch.

Lastly, you need to make sure that your solar power website is mobile-friendly. This is crucial since most consumers will begin their product search online. Keep in mind that your website must be easy to load and mobile-friendly, or you risk losing a lot of potential customers.

A well-designed website can give you an edge over your competitors. But it takes time and money to create a website that's truly impressive. Fortunately, you can hire a web designer to help you. They can also assist you with your SEO efforts.

By implementing these elements, you can have a solar power company website that's as useful as it is attractive. Your website should offer useful tips, provide relevant information, and explain the benefits of solar power.

What Solar Website Features Are Important

As a solar energy company, your website is more than just an online brochure. Your site should be designed to engage visitors and convert them into sales leads. Fortunately, there are a few things you can do to help your website stand out from the crowd.

One way to boost your SEO is to create an aesthetically pleasing design. Make sure you leave plenty of space for content but don't make your website a jumble of text and images. A good website should also be responsive, meaning it adjusts to the device it's being viewed on.

It's also a good idea to include a video of a solar installation in action. This will not only show off your solar technology, but it will also give visitors an idea of what you can do. Another useful feature is the CTA or call-to-action button, which will tell them what to do next.

You'll also want to include a free quote form. A phone number is a must, as well as an email address. Including this information in a prominent location will help you build trust with potential customers.

In addition to the aforementioned, you can also incorporate some other cool features into your site. For example, you can feature a photo gallery of past projects. Having a photo gallery is a great way to show off your work and prove you are a trustworthy company.

The best websites are easy to navigate and offer useful tips and information that will entice visitors to learn more. With a little research, you can create a sleek, functional website that will keep your customers coming back for more. And the more they visit, the more likely they are to purchase. After all, solar energy is a great way to contribute to a greener planet while boosting your bottom line.

So go ahead and spruce up your solar power website with these 6 tips, and you'll be on your way to a better business.

The best solar company website is the one that is a reflection of your brand and its offerings. Keep these tips in mind as you create your website, and your sales will skyrocket.

How to Find a Web Designer

Solar energy companies are gaining traction in the business world, but in order to be successful, they need a website. A website can help solar companies generate more leads, which in turn can increase sales. However, if a solar company's website is not well designed, it can actually be a detriment to the company.

Solar websites should be informative and easy to understand. They should also include photos and videos of installations. These can demonstrate the quality of the company's work and create trust.
The solar energy industry is a competitive one. In order to stand out from the crowd, a solar power company's website should be designed in a way that resonates with potential customers. It should also be easy to navigate and include testimonials.

To be effective, a solar company's website should be optimized to be ranked on page one of search results. This is because 90 percent of all online experiences start with a search engine.

If a solar company's website is not responsive, it can be difficult to see it on mobile devices. As more people access the internet through mobile devices, a website that isn't mobile-friendly will lose potential customers to competitors.

If a solar company's site is well-designed, it can generate more leads and increase sales. A clean, professional look makes a good impression with potential customers.

Websites can also be inexpensive to create. When you hire a web designer, make sure he or she is knowledgeable in industry-standard software such as Sketch, HTML, and Invision. Also, be wary of prospective web designers who don't have references.

You should also ask for testimonials from satisfied customers. Having positive reviews on a website is a great way to establish credibility and build trust. Moreover, a solar company's website can be a great place to share useful tips and information.

Finally, a solar energy company's website should be secure. Data breaches are a serious offense on the Internet. Having a website built with SSL and HTTPS will ensure that your website is protected and can't be hacked.

A solar company's website should be a representation of the company's brand and image. With the help of a professional solar website template, you can create a high-quality, responsive site that will attract your target audience.

Increase Leads with a High Converting Website

If you are looking to increase leads for your solar energy company, there are many different strategies you can use. These strategies can be as simple as using your social media account to advertise and educate or as complex as developing a multi-faceted, comprehensive campaign. But the bottom line is that you should focus on getting the word out about your solar energy services and your company to prospective customers.

The first place you can start is your website. You want to make sure that it loads quickly and includes a call-to-action that will prompt visitors to request more information. Also, your site should be optimized for mobile devices. This can help you rank better in search engines.

Another great strategy is to offer free solar-related products or services. These gifts can help increase your brand awareness and get you more leads. A good way to get these free offers out to potential customers is through social media channels, such as Twitter and Facebook.

You can also offer webinars to your audience. Webinars are a great way to educate leads on the benefits of solar panels, and they can drive more people deeper into your sales funnel.

Other strategies you can use are referrals and advertising. You can advertise on platforms that target local residents and even government officials. PPC is a great way to generate high-quality leads, and it is easy to set up. Just make sure that your ad copy is compelling and that you target keywords related to solar energy.

Finally, you can participate in local community events. For example, you might sponsor an event that will allow you to set up as a vendor. Your business can also promote special offers and answer questions on social media.

Regardless of the method you choose to implement, it is important to remember that lead generation isn't a simple task. There is a lot of planning and hard work involved, and some strategies can take as long as six or twelve months to produce results. However, with a well-thought-out strategy, you can generate quality leads that turn into customers.