Need a Food Truck Website?
See our pricing, portfolio & get your FREE website mockup!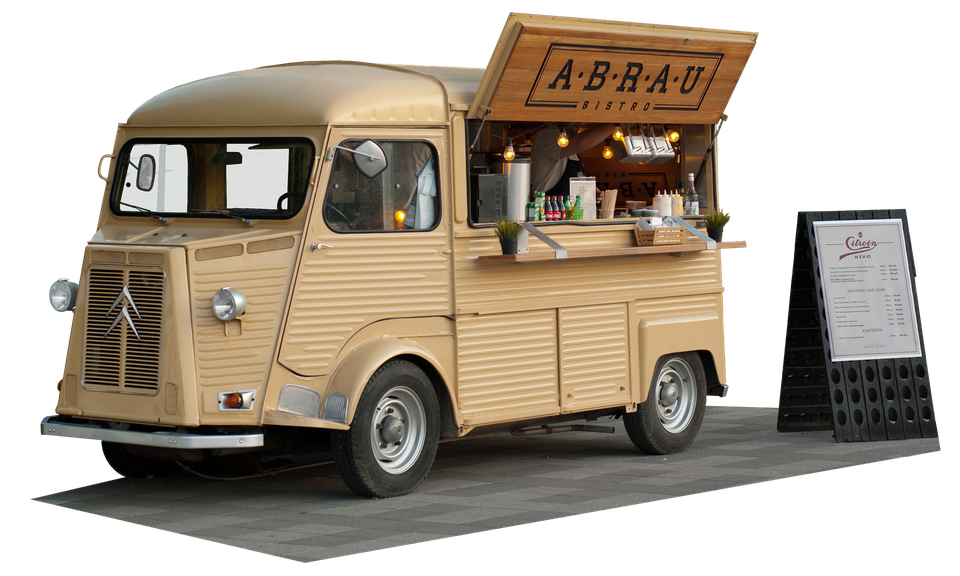 7 Tips for Marketing Your Startup Food Truck Business
If you're thinking about launching your own food truck business, you probably already know that it isn't going to be easy. You have to think about branding, marketing, and even public relations if you want to find success in this competitive field.

If you don't have the experience or the contacts needed to market your business effectively, these seven tips will help you figure out how to make sure that people know about your mobile food business and understand why they should visit it when they're in the area.

1) Create an effective message
Start by creating a strong and catchy message for your food truck business. This will be the foundation of all your marketing efforts moving forward. From there, get creative with your marketing strategies. Social media, word-of-mouth, and community events are great ways to get the word out about your food truck business. And finally, don't forget to have some fun with it! After all, people love good food and good vibes.

2) Build an effective food truck website
Building an effective food truck website is critical to the success of your startup food truck business. Here are seven tips to help you get started:
1. Keep it simple - don't try to do too much with your website. Stick to the basics and make sure it's easy to navigate.
2. Highlight your unique selling proposition - what makes your food truck business special? Make sure this is front and center on your website. Customers need to know why they should choose your food truck over all the others!
3. Use photos, video, and testimonials - these things all help customers visualize their experience with your company.
4. Include a map and contact information - this will let people know where they can find you and how they can reach out if needed!
5. Promote specials or seasonal menus - these will be more enticing than just a basic menu of regular items!

3) Make sure to offer free samples
There's no better way to market your food truck business than by giving free samples. Let your food sell itself, and you'll be sure to attract new customers. Plus, word-of-mouth is always a powerful marketing tool. Here are a few other tips to get you started

4) Identify your customers
Start by identifying your target customers. Are you targeting business professionals or families? Once you know who your target market is, you can start developing a marketing strategy that will appeal to them. Here are a few tips to get you started.

If you're catering to the family demographic, then invest in items like grilled cheese sandwiches and macaroni and cheese. Families are less likely to be swayed by more expensive dishes like steak tacos, so it may be best to keep the menu limited when catering to this audience. You might also consider offering kids' meals for those with smaller appetites.

If you want to focus on business professionals, try including drinks like coffee and wine on your menu. It's also important to offer convenient breakfast options because many people eat breakfast at their desks these days. Offer hearty but easy-to-eat foods, as well as lighter fare such as fruit salads and yogurt parfaits during lunch hours, which are usually very busy during workdays.

5) Use social media effectively
Social media is a powerful tool to help you get the word out about your food truck business. Here are a few tips for using social media effectively.

-Create a Facebook page, Twitter account, and Instagram account
-Post content frequently, so people know what's happening at your company. You can post photos of new menu items, daily specials, and other things that interest customers.
-Provide contact information in your posts, so people know how to reach you if they want more information or want to purchase something from you.
-Don't forget: Be sure to tag posts with keywords, so they appear in searches for those words!

6) Invest in search engine optimization (SEO)
If you want customers to be able to find your food truck website, you need to invest in search engine optimization (SEO).

SEO is the process of optimizing your website for Google's search algorithm. This means ensuring your website is keyword-rich and informative so that when people search for food trucks in your area, your truck comes up first.

There are many ways to make this happen, but one simple way is by adding rich content about your business to your website with phrases like Philadelphia food trucks or best pizza around Boston.

7) Advertise strategically
Advertising your food truck business doesn't have to be expensive. There are several free or low-cost marketing techniques you can use to attract local customers to your upcoming locations.  Here are seven ways you can market your startup food truck business:

Start with social media. Social media is an inexpensive way to reach a wide audience and build brand awareness. Even if you're just starting, create profiles on Facebook and Twitter and connect with like-minded businesses in the area who may share content about your company or allow you to post ads. You'll need time before these platforms provide any real benefits, though, so don't expect them to start generating traffic right away. If you want instant results, consider advertising in local newspapers and community newsletters.

Reach out to influencers in your industry, too - bloggers and writers who can spread the word about your business through their posts. They usually love getting freebies as well! Finally, contact every nearby restaurant interested in catering events or catering offsite - they may offer tips on how they advertise their own mobile food truck services. Once you've found some new leads, map out your marketing strategy and budget accordingly.

Finally, remember to balance the high costs of promotion and what it will take to generate enough foot traffic. With this approach, you'll get more bang for your buck when it comes to attracting clients.

Summary of how to market your startup food truck
You need an effective message and website to market your startup food truck business. You also need to identify customers and offer samples. SEO and social media advertising can help you reach more customers. Don't forget important things like being responsive on the phone, having a clear menu, and providing friendly customer service. 
Need a Food Truck Website?
See our pricing, portfolio & get your FREE website mockup!