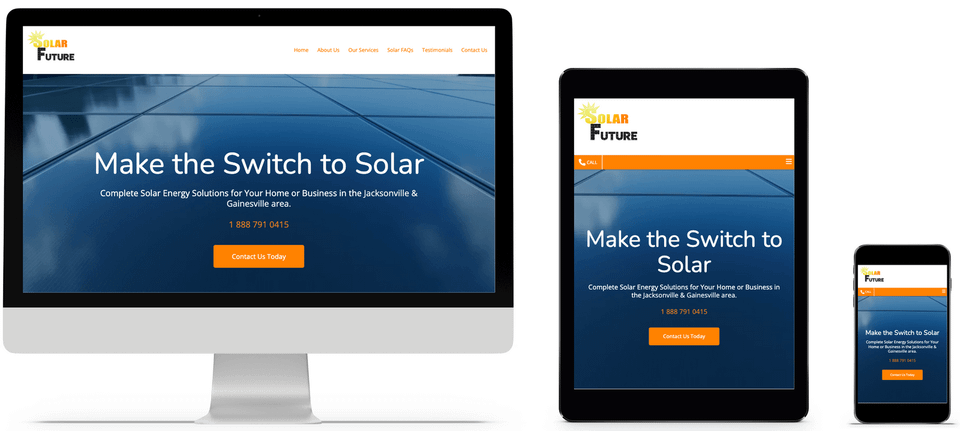 Solar Company Web Design
Project Overview
The primary goal of this project was to redesign and restructure Solar Future USA's website, with a focus on enhancing user experience, optimizing lead generation, and elevating the brand's online presence. The redesigned website needed to showcase the company's expertise in solar energy installation and make it easy for potential clients to explore their services and request quotes.
Project Execution
Discovery & Research: We began by conducting extensive research on Solar Future USA's target audience, competitors, and industry best practices to inform our design decisions. This stage included client interviews, user surveys, and analysis of website analytics. Information

Architecture: We restructured the website's information architecture to ensure a seamless user experience and easy navigation. This involved creating wireframes and establishing a clear hierarchy of information.

Visual Design: Our design team developed a modern and clean visual design that aligned with Solar Future USA's brand identity. We focused on incorporating solar imagery, bold typography, and contrasting colors to create a visually engaging and user-friendly interface. Development &

Implementation: We utilized our proprietary CMS to build responsive and mobile-friendly web pages. The website was developed on our platform for easy content management and future updates.

Testing & Launch: Prior to launch, we conducted thorough testing to ensure the website's compatibility across various devices and browsers. We also ensured that the site met accessibility standards and was optimized for search engines.
Results
The new Solar Future USA website successfully showcases the company's expertise in solar energy installation and serves as a powerful tool for generating leads. The redesigned site offers an intuitive user experience, making it easy for potential clients to explore services, access valuable resources, and request quotes. The website's modern visual design and improved content structure have elevated Solar Future USA's online presence, positioning the company as a leader in their industry.